What is BIOSKIN?
【For first-time visitors】
Feel and resiliency close to human skin.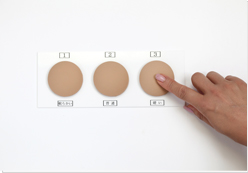 Unprecedented reproduction of human skin feel and resiliency with perfect freedom.
We process urethane elastomer with original technology and faithfully reproduce human skin characteristics.
BIOSKIN with various surface shapes, color tone and resiliency close to human skin is suitable for evaluation of cosmetics and its physical property and as counseling tools at stores.
High processability makes it possible to mold into various shapes.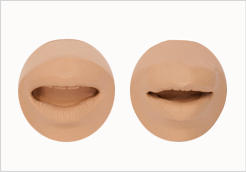 Due to high processability, fine shape and pores of human skin surface can be faithfully reproduced from the replica made by taking impression from human skin.
It is possible to create various skin models by BIOSKIN which can be processed freely.
Always stable evaluation is possible.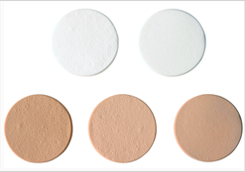 Always stable evaluation can be done only by BIOSKIN.
BIOSKIN solves various problems that occur at the time of evaluation of cosmetics such as variations in evaluation arising from difference in human skin conditions, burdens of examinees caused by intensive cosmetic test in a short period of time.
BIOSKIN enables adhesion and evaluation of applied color under always certain conditions.
Repeated use is possible.
Abundant color variation and surface modification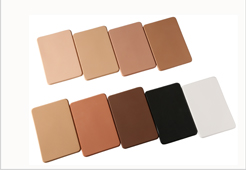 BIOSKIN can reproduce colors freely.
The BIOSKIN lineup has seven color patterns as basic color plus white and black. In addition, we receive your desired color in custom order. They are recommended for the evaluation of the color of cosmetics, applied color evaluation, transparency and spectral characteristics.
Three kinds of surface texture are available, namely wet, normal and dry.
* It may differ from the actual color by the screen setting of the personal computer.
BIOSKIN property data
Physical property value
Specific gravity
1.14
Hardness(JISA)
10
100% modulus
2.4MPa
Maximum stress
0.95MPa
Elongation
480%
Tear strength
3.2KN/m
Weather resistance test(Q-U-V)
ASTM G-53
It endures a year's exposure
Solubility
Not soluble in water nor alcohol
Soluble in DMSO